The Pomegranate on Main Story

Authentic Persian Food In Greenville

Pomegranate on Main offers a modern, inviting atmosphere with an open dining room accented by traditional Persian touches. Iranian artists provided the amazing one-of-a-kind pieces of art. The outdoor patio offers a cozy, climate controlled feel under the pergola and beautiful sky!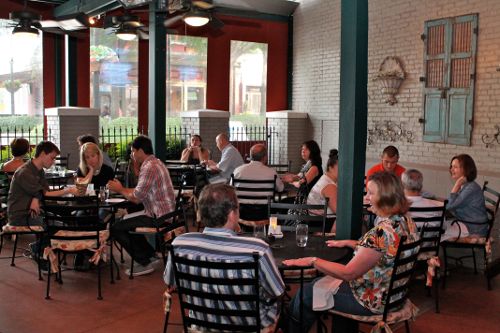 Our Story

Proud to be a local business, Pomegranate on Main opened in 2007 contributing to the downtown development of Greenville's historic West End District. Longtime resident and entrepreneur Ali Saifi and business partner/operator Hash Bassam created a one-of-a-kind concept to share traditional Persian recipes prepared using fresh ingredients and healthful cooking methods. Greenvillians and visitors alike can enjoy familiar foods – beef, chicken, lamb, seafood, rice and vegetables – prepared in a unique way with the subtle flavors of saffron, mint and pomegranate for a dining experience to savor.
Our Cuisine

All of the menu items are prepared fresh daily using traditional recipes made with fresh ingredients. Persian cuisine requires the balance of flavors like pairing sweet pomegranate with earthy walnut to make the Fesenjan stew or lentils with raisins in the delicately prepared basmati rice. The starters are vegetarian and dips or spreads served with flatbread and a tray of fresh mint, radish, unsalted butter and feta cheese. The kabobs are perfectly cooked over an open flame on a two-foot skewer and paired with a complementary basmati rice to ensure the balance of flavors once again. The desserts are homemade by Ali's wife Nancy ranging from moist chocolate cake to a coconut custard pie. The entrées are gluten-free and naturally healthy. Our signature Pomegranate Martini is loved by many, while we continue to explore and invent new artisanal cocktails. Our wine list offers selections sure to please the beginner and expert alike. At lunch we offer satisfying meals from $9-$15 and dinner from $16-$32.
Come Enjoy A Meal With Us

Experience our authentic Persian Cuisine and inviting atmosphere for your next meal. We aim to serve, so please contact us with any questions you may have.
Monday to Friday
11:30am – 2:30pm
5:30pm – UNTIL
Saturday
11:30am – UNTIL
Closed Sunday
Make A Reservation